Tan Dun and Anssi Karttunen started working together in 1990 with the recording of Elegy: Snow in June for CRI in New York. Since then the two have performed together all over the world. Tan Dun wrote his Concerto Yi1 and solo cello piece Intercourse of fire and water as well as Chiacona - after Colombi for Anssi. They have also been quick to perform together his other cello pieces.

Recently the two performedThe Map, Tan Dun's multimedia concerto for cello and orchestra with many of the greatest orchestras of the world. A DVD of their performance of the piece at the historical city of Fenghuang in Hunan is published by Deutsche Grammophon.

The latest performances of The Map include the Concertgebouw in Amsterdam, the Munich Philharmonic, La Scala in Milan and Alte Oper in Frankfurt. Toronto Symphony and BBC Symphony. In 2012, Tan Dun and Anssi will perform Yi1 with the Orchestre National de France and The Map at the Amsterdam Cello Festival.
---
Performing The Map in Shanghai 29.8.2003

The works of Tan Dun for Cello:

Elegy: Snow in June, cello and four percussions1991

Yi1: Concerto for Cello and Orchestra, 1995

Intercourse of fire and water, solo cello, 1996

Symphony 1997, cello, choir and orchestra, 1997

Crouching tiger Concerto, 2000

The Map, Concerto for Cello, video and Orchestra, 2003

Four secret roads of Marco Polo, 12 cellos and orchestra 2004

Secret Land, cello orchestra 2006

Chiacona - after Colombi, solo cello, 2010
---
Anssi Karttunen performing works of Tan Dun:

Elegy, Snow in June:
CRI Recording 1991, Talujon Ensemble
Concert RCA Studios 1991, Talujon Ensemble
Helsinki Biennale 1993, Kroumata Ensemble
Cable Factory, 1996, Helsinki, Breath Ensemble
Suvisoitto Festival 1996, Finland, Breath Ensemble
Viitasaari Festival 1996 Finland, Breath Ensemble
Centre Acanthes, Avignon, France, 2000

Yi1:
Finnish Radio Orchestra, Saraste, Helsinki Biennale 1995
Studio recording, Finnish Radio Orchestra, Saraste, 1995
Dutch Radio Chamber Orchestra, Tan Dun, Amsterdam 1997
BBC Scottish Orchestra, Tan Dun, Glasgow 1997Orchestre National de France, Paris 2012

Intercourse of fire and water:
Studio recording, Finnish Radio, 1997
Festival de musica contemporanea, Leon, Mexico 1997
Festival Musica, Strasbourg, 2000
A Tempo festival, Caracas, Venezuela 2001

Crouching tiger Concerto:
Shanghai Symphony, Tan Dun, Macau Festival 2001
Shanghai Symphony, Tan Dun, Shanghai Grand Theatre 2001
Orchestre Philharmonique de Radio France, Tan Dun, Paris 2002
Hong Kong Chinese Orchestra, Paris 2004
Hong Kong Chinese Orchestra, Hong Kong 2010

The Map:
Shanghai Symphony, Tan Dun, Shanghai Grand Theatre 2003
Shanghai Symphony, Tan Dun, Fenghuang, Hunan 2003
Hong Kong, Hong Kong Sinfonietta, Tan Dun, 27-28.10. 2004
Beijing, Beijing Symphony Orchestra, Tan Dun, 30.10.2004
Philadelphia, Philadelphia Orchestra, Tan Dun, 11-16.11.2004
Suntory Hall, Tokyo, NHK-Orchestra, Tan Dun, 22-23.6.2005
Concertgebouw, Amsterdam, Flanders Philharmonique, Tan Dun, 10.10.2005
Hamburg Philharmonic, Tan Dun, 12-13.2.2006
Munich Philharmonic, Tan Dun, 12-13.7.2006
Tampere Philharmonic, Finland, John Storgards 8.9.2007
Norrkoping Symphony Orchestra, Stockholm, Lu Jiu 10.10.2007
Filharmonica della Scala, Milan, Tan Dun 8.1.2008
Alte Oper, Frankfurt, Hessischer Rundfunk Sinfonieorkester, Tan Dun, 11-12.12.2008
Toronto, Toronto Symphony Orchestra, Tan Dun, 5.3.2009
London, BBC Symphony, Tan Dun, 21.3.2009
Helsinki, Helsinki Philharmonic, John Storgards, 24-25.3.2011
Pamplona, Orquesta Sinfonica Navarra, Ernest Martínez-Izquierdo, 2011
Amsterdam, Amsterdam Cello Biennale, Tan Dun, 27.10.2012

Open-air concert of The Map in Fenghuang, Hunan, 2003
---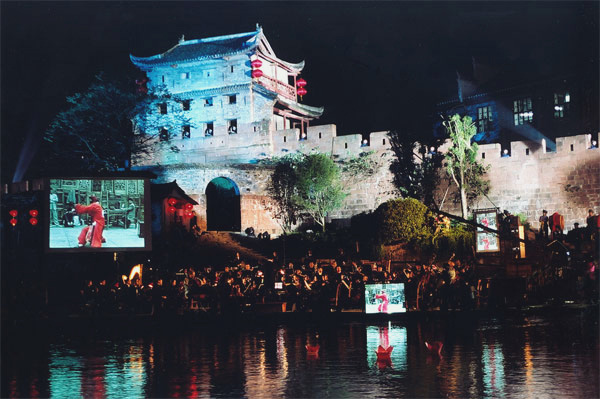 Open-air concert of The Map in Fenghuang, Hunan, 2003
---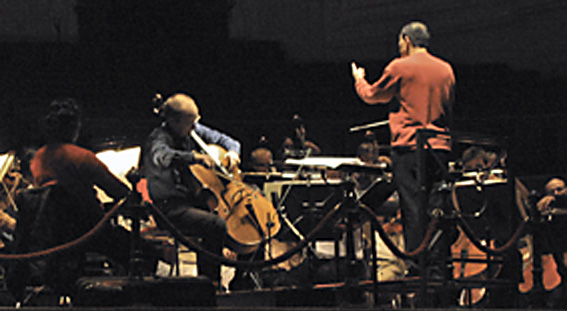 Rehearsing The Map at the Concertgebouw in Amsterdam
---